Product Detail
Home
/ Product Details
Higher Education Instruments Manufacturers & Exporters
Ambey International!
Product Overview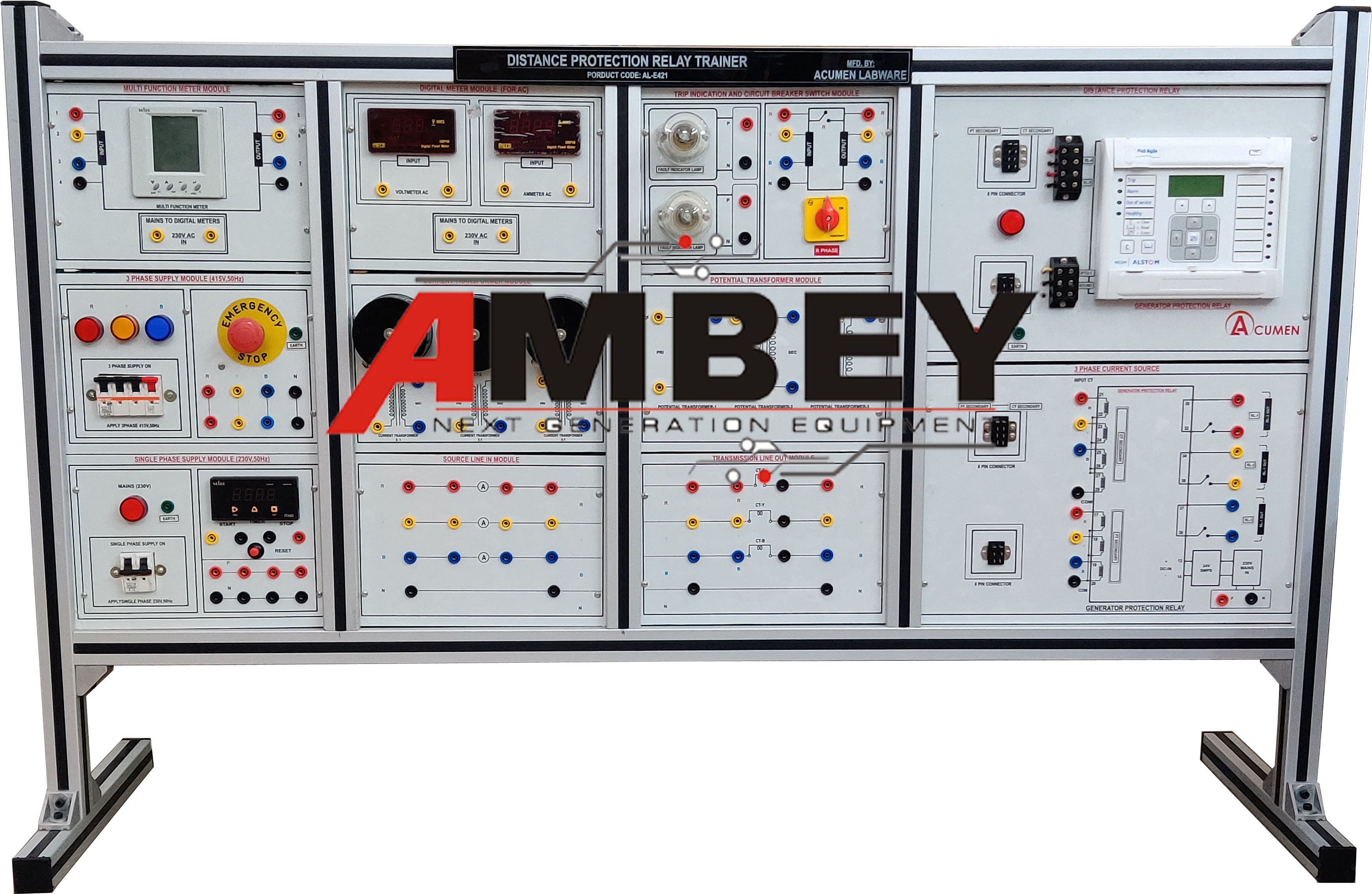 AL-E833 DISTANCE PROTECTION RELAY TRAINING SYSTEM
Description:

SCOPE OF LEARNING:
To perform experiment for distance protection of transmission line, LG, LL, LLG, LLL, LLLG
To perform experiment for auto reclose function of the relay for transient type faults
TECHNICAL SPECIFICATIONS:
Power Supplies:
AC Power Supply 0-415V, 4A
Operated on Mains power 415V, 50Hz

+

10%
SINGLE PHASE POWER SUPPLY MODULE
MCB
Red Indicator
Digital Timer
Reset Switch
THREE PHASE POWER SUPPLY MODULE (415V,50Hz)
MCB
Emergency Stop
R-Y-B Indicator
MULTIFUCTION METER MODULE
Digital Multi Function Meter
DIGITAL METER MODULE (FOR AC)
Digital Voltmeter AC
Digital Ammeter AC
CURRENT TRANSFORMER MODULE
Current Transformer (3Units)
SOURCE LINE IN MODULE
TRIPPING INDICATION MODULE
Lamp Holder 230V (2Units)
POTENTIAL TRANSFORMER MODULE
Potential Transformer (3Units)
TRANSMISSION LINE OUT MODULE
Connection Out For Transmission Line
DISTANCE PROTECTION RELAY MODULE
Numerical type Distance Protection Relay, current rating 1 A / 5 A for protection of transmission line
RS232 PORT FOR PC COMMUNICATION, RELAY SETTING WITH SOFTWARE ON CD, RS232 TO USB CONVERTER FOR USB INTERFACE
8PIN CONNECTOR
6PIN CONNECTOR
RED INDICATOR
8PIN JOHNSON CONNECTOR
6PIN JOHNSON CONNECTOR
3PHASE CURRENT SOURCE MODULE
CIRCUIT FOR DISTANCE RELAY
8PIN JOHNSON CONNECTOR
6PIN JOHNSON CONNECTOR
TRANSMISSION LINE PANEL:
Table Top Panel consisting of :
Simulated model for short transmission line using R(10 ohm/600W), L(0.15H/5A) & C (2.2uF/630V) 6 No. each component.
Simulated model for medium length 125kms & long lenth 250kms transmission line.
Forced Air cooled using 2 fans.
SALIENT FEATURES:
Front panel built with high class insulated Printed Circuit Breaker well printed circuits and symbols.
Instruction manual.
Patch Cords 4mm (Heavy Duty) 1Meter Length.
High Voltage Test Points are Provided With 4mm Safety Sockets
The trainer is housed in Modular Based Rack Type Aluminum Extruded Metal cabinet.
Short Circuit protection with the MCB.
Size of the trainer set 54"x24"
OPTIONAL ACCESSORIES:
PACKING LIST
AL-E833 DISTANCE PROTECTION RELAY TRAINING SYSTEM
TRANSMISSION LINE MODULE
PATCH CORDS
3PHASE RESISTIVE LOAD (RHEOSTATIC)
FILAMENT LAMP (2Units)
3PHASE AUTO TRANSFORMER
RS232 PORT FOR PC COMMUNICATION, RELAY SETTING WITH SOFTWARE ON CD, RS232 TO USB CONVERTER FOR USB INTERFACE
Category:
POWER SYSTEM & PROTECTION LAB
Product Name:
AL-E833 DISTANCE PROTECTION RELAY TRAINING SYSTEM
Download PDF:
No Catalog Attached