Product Detail
Home
/ Product Details
Higher Education Instruments Manufacturers & Exporters
Ambey International!
Product Overview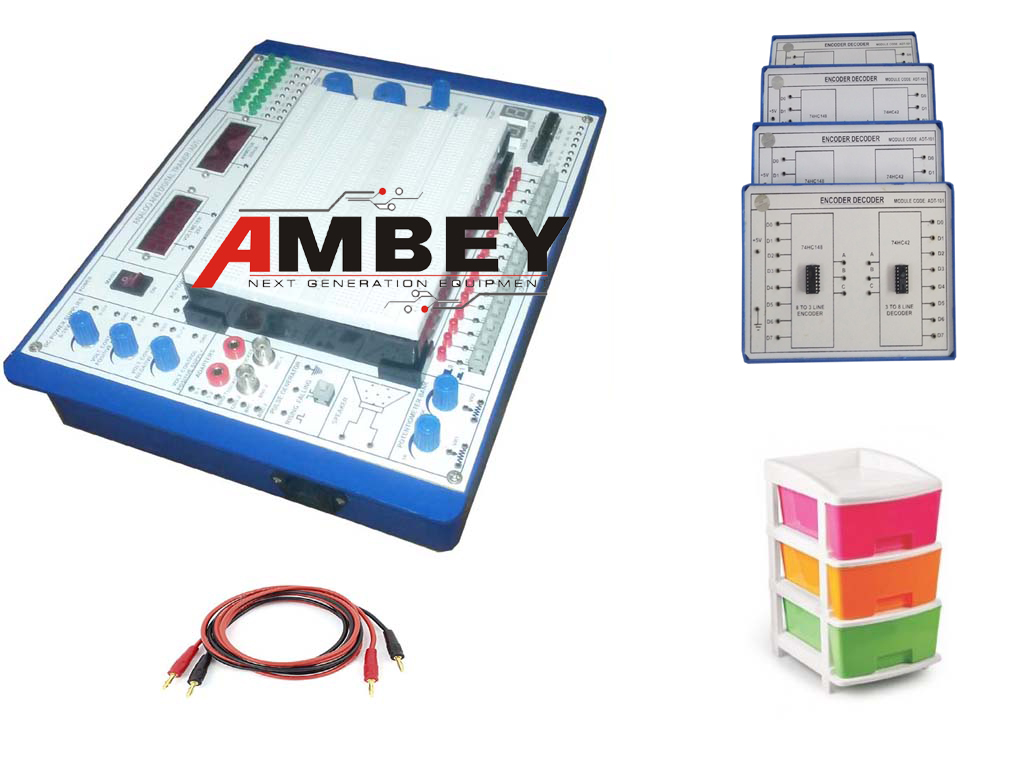 AL-E048A ANALOG & DIGITAL BREAD BOARD TRAINER WITH PLUG IN MODULES
Description:

SCOPE OF LEARNING:
Study and Construction of Analog and Digital Electronics Lab Experiment
TECHNICAL SPECIFICATIONS:
Power Supplies:
DC Power Supply IC Regulated ±5V, ±12V @ 500mA.
DC Power Supply IC Regulated 0 to 30V @ 250mA (3Nos.)
AC Power Supply 9-0-0 VAC,12-0-12VAC

Operated On Mains Power 230v, 50hz

+

10%
Digital Meters:
Voltmeter 20VDC.
Ammeter 200mA DC.
Solder-less, breadboard (Easy to remove)
Logic Inputs & Outputs 16 Bit
Trainer Contains 4 Bit BCD To 7 Segment Indicators With Inputs A, B, C, D Inputs 2Nos.
Logic Low Frequency Mono Pulsar With Rising And Falling Edge.

Frequency Generator 1Hz to 100 KHz (Variable Frequency and Amplitude)
2 Variable Resistors are given on Board.
One Low Frequency Speaker.
Buzzer as Continuity Tester.
2 BNC to Socket Adapter on Board.
SALIENT FEATURES:
Front Panel Built With High Class Insulated Printed Circuit Board Sheet With Well Printed Circuits And Symbols.

Fuse For Short Circuit Protection
Instruction Manual.
Connections are brought out through 2mm Brass Sockets.
Patch Cords 2mm with Bread Board Pin (25Nos).
The trainer is housed in ABS Plastic cabinet.
Size of the trainer set 12"x10"
OPTIONAL ACCESSORIES:
LIST OF MODULES:
Analog Electronics Modules
Digital Electronics Modules
Category:
BREAD BOARD TRAINERS
Product Name:
AL-E048A ANALOG & DIGITAL BREAD BOARD TRAINER WITH PLUG IN MODULES
Download PDF:
No Catalog Attached