Product Detail
Home
/ Product Details
We freight to all over the world The best Electronics company,
AMBEY
INTERNATIONAL!
Product Overview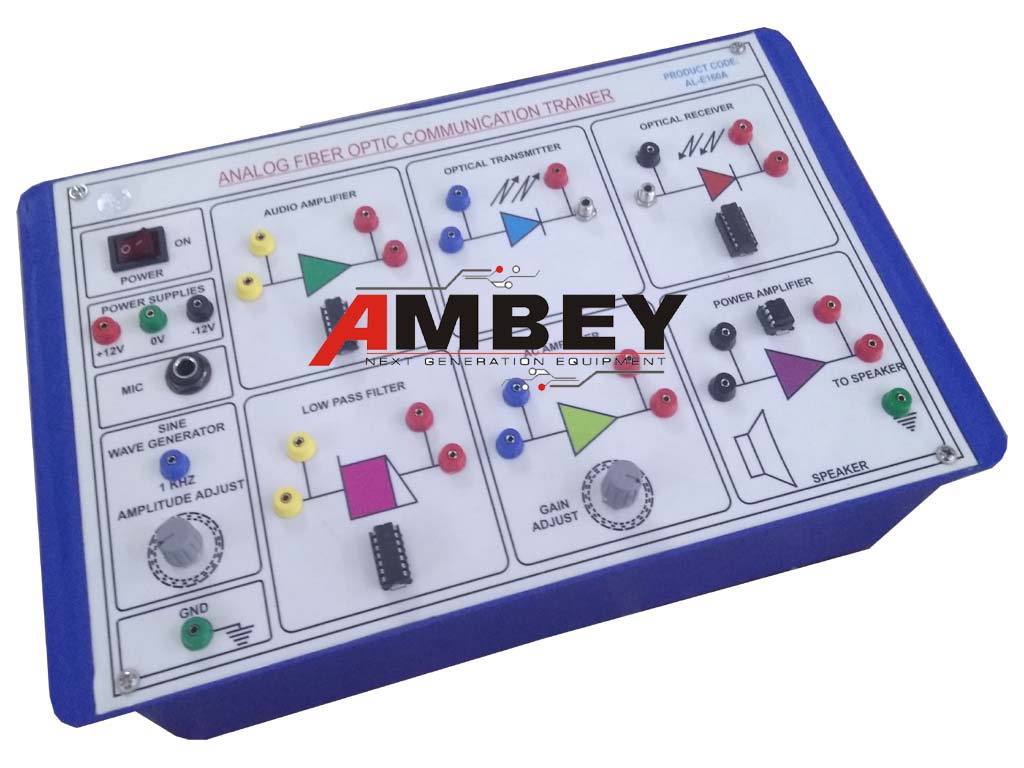 AL-E160A ANALOG FIBER OPTIC TRAINER
Discription:

SCOPE OF LEARNING:
Voice transmission through optical fiber cable.
To study transmitter circuit & calculate its output power
To study receiver circuit & calculate its input power
To study the attenuation of signal between transmitter & receiver end.
Measurement of numerical aperture
TECHNICAL SPECIFICATIONS:
In built IC based Fixed DC Regulated Power Supply

+

12VDC/100mA.
On board 1KHz sine wave oscillator provided.
Input amplifier stage using TL074.
Optical transmitter
Optical Receiver
Low Pass filter given on board.
AC amplifier given on board.
Power Amplifier given on board with volume control.
Circuit diagram is printed on glass epoxy PCB & different combination of resistance.
Test points are brought out on front panel.
SALIENT FEATURES:
660nm Transmitter.
Photo Detector.
On-board Sine wave generator:10Hz
On-board 4th Order Low Pass Filer
Two PMMA Optical Fiber Cables 1mtr and 3mtr Length.

In-Built DC Regulated Power Supply.

Front Panel Built With High Class Insulated Printed Circuit Board Sheet With Well Printed Circuits and Symbols.

Fuse For Short Circuit Protection
Instruction Manual.
Connections are brought out through 2mm Brass Sockets.
Patch Cords 2mm.
The trainer is housed in ABS Plastic cabinet.
Size of the trainer set 12"x8"
OPTIONAL ACCESSORIES:
Category:
FIBER OPTICS TRAINER KITS
product Name:
AL-E160A ANALOG FIBER OPTIC TRAINER
Download PDF:
No Catalog Attached