Product Detail
Home
/ Product Details
Higher Education Instruments Manufacturers & Exporters
Ambey International!
Product Overview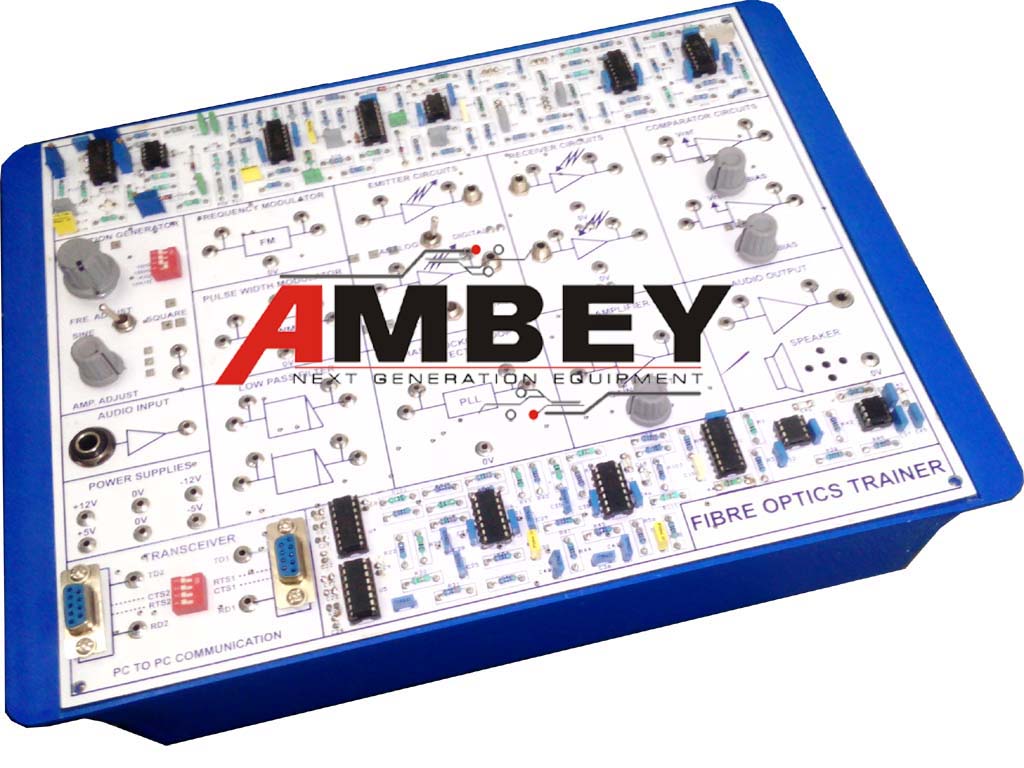 AL-E160B DIGITAL FIBER OPTIC TRAINER
Description:

SCOPE OF LEARNING:
Setting up Fiber Optic Digital Link
Study of Intensity Modulation Technique using Digital Input Signal
Setting up of Propagation Loss in Fiber Optic Study of Bending Loss.
Measurement of Optical Power using Optical Power Meter
Measurement of Propagation loss using Optical Power Meter
Measurement of Numerical Aperture Characteristics of F-O Converter using OPM
Characteristics of Fiber Optic communication Link
Setting up of Fiber Voice Link using Intensity Mode
Study of PC to PC Communication using Fiber Optics Digital Link
Frequency Modulation and Demodulation
PWM Modulation and Demodulation
TECHNICAL SPECIFICATIONS:
Transmitter Fiber Optics LED having peak wavelength of emission 950nm
Receiver Fiber Optic photo detector
On-board Digital Drivers.
On-board AC Amplifiers.
Digital Band Width 2.5 KHz
4 order Butter worth 3.4KHz Low Pass Filter
On-board 10Hz. To 10 KHz sine wave (amplitude adjustable), square wave Selectable.
FO voice link using microphone & speaker
RS-232C PC to PC Serial Link using 9 pin D-Connector.
Fiber Optics Cable Connector type Standard SMA.
Duly polished fiber at both end for Numerical Aperture Measurement.
Step indexed multimode PMMA plastic cable.
Numerical aperture Better than 0.5.
Acceptance Angle Better than 60
Fiber Diameter 1000 microns.
Outer Diameter 2.2mm.
Fiber Length 1m and 3m
In-Built Power Supply +5V/1.5A, ±12V/250mA.
SALIENT FEATURES:
950nm Transmitter.
Two Nos. Of Photo Detector.
On-board Sine & Square wave generator:10Hz-10KHz
On-board 4th Order Low Pass Filer. 2 Nos.

In-Built DC Regulated Power Supply.

Front Panel Built With High Class Insulated Printed Circuit Board Sheet With Well Printed Circuits And Symbols.
Fuse For Short Circuit Protection
Instruction Manual.
Connections are brought out through 2mm Brass Sockets.
Patch Cords 2mm.
The trainer is housed in ABS Plastic cabinet.
Size of the trainer set 12"x10"
OPTIONAL ACCESSORIES:
CRO
OPTICAL POWER METER
DIGITAL MULTIMETER
Category:
FIBER OPTICS TRAINER KITS
Product Name:
AL-E160B DIGITAL FIBER OPTIC TRAINER
Download PDF:
No Catalog Attached