Product Detail
Home
/ Product Details
Higher Education Instruments Manufacturers & Exporters
Ambey International!
Product Overview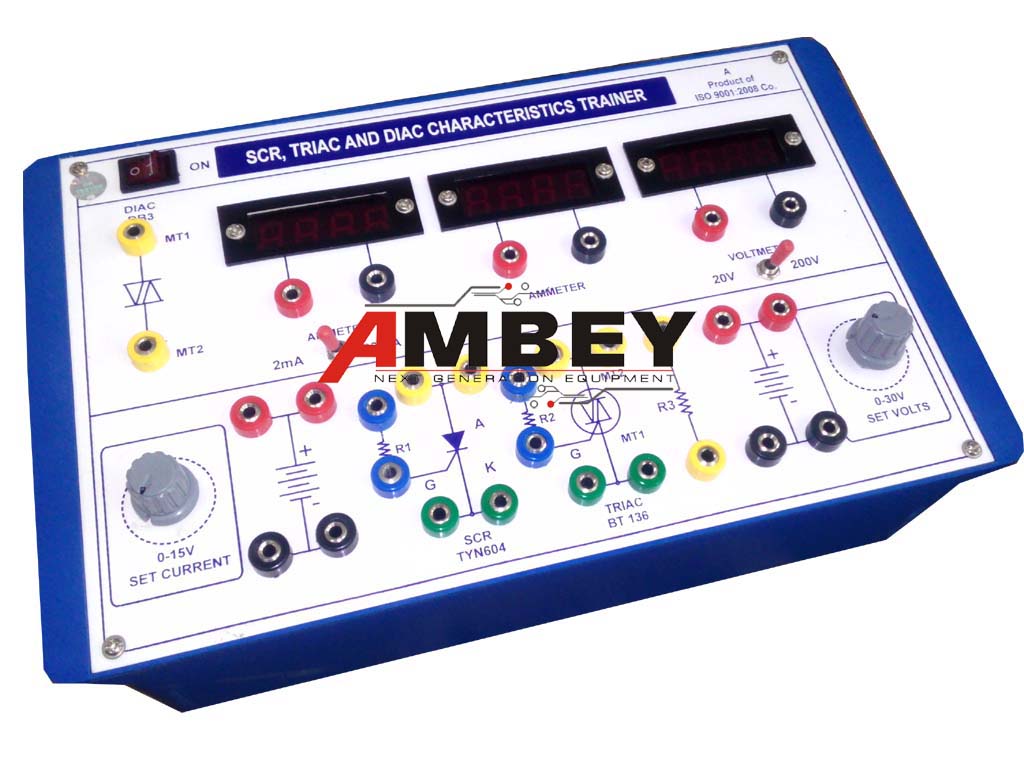 AL-E204 SCR,TRIAC AND DIAC CHARACTERISTICS (DIGITAL METERS)
Description:

SCOPE OF LEARNING:
Characteristics of Triac, SCR and Diac

TECHNICAL SPECIFICATIONS:
Power Supplies:
DC Supply IC Regulated 0-15V DC, 150mA.
DC Supply IC Regulated 0-30V DC, 150mA.

Operated on Mains power 230V, 50Hz

+

10%
Digital Meters:
Ammeter 2Ma/20mA DC.
Ammeter 200mA DC.
Voltmeter 20V/200V DC.
Components are mounted on the panels are:
Triac BT136
SCR TYN604
DIAC DB3
Voltage Control through Potentiometer.
SALIENT FEATURES:
Front panel built with high class insulated Printed Circuit Board sheet with well printed circuits and symbols.

Instruction manual.
Connections are brought out through 4mm Colored Sockets.
Patch Cords 4mm.
The trainer is housed in ABS Plastic cabinet.
Size of the trainer set 12"x8"
OPTIONAL ACCESSORIES:
Category:
BASIC ELECTRONICS LAB
Product Name:
AL-E204 SCR,TRIAC AND DIAC CHARACTERISTICS (DIGITAL METERS)
Download PDF:
No Catalog Attached