Product Detail
Home
/ Product Details
Higher Education Instruments Manufacturers & Exporters
Ambey International!
Product Overview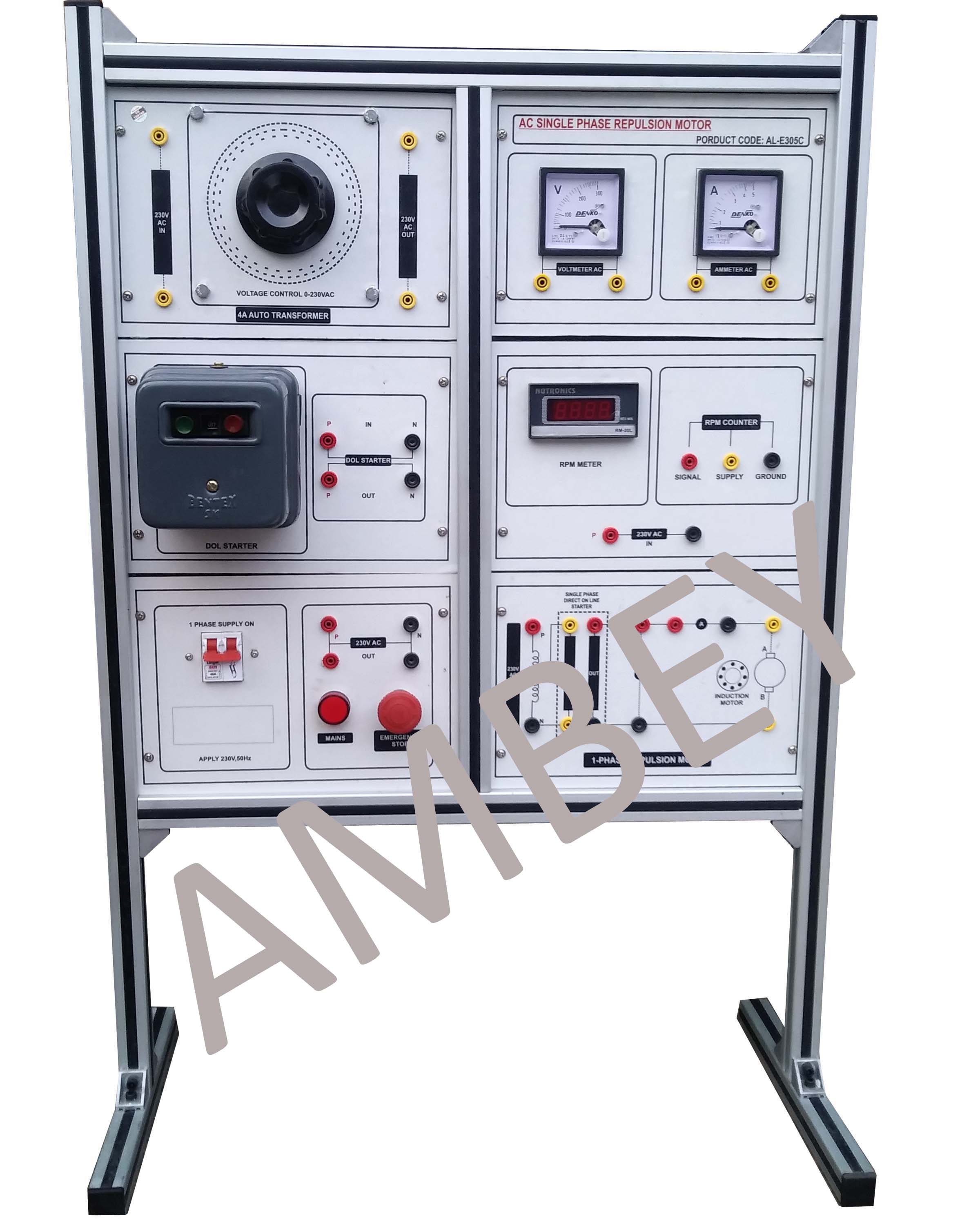 AL-E305C SINGLE PHASE AC REPULSION INDUCTION MOTOR (SPEED CONTROL)
Description:

SCOPE OF LEARNING:
Speed Control AC Repulsion Ind. Motor
TECHNICAL SPECIFICATIONS:
Power Supplies:
DC Power Supply 0-230V AT 4A (Internal)

Operated on Mains power 230V, 50Hz

+

10%
Digital/Analog Meters:
Voltmeter
Ammeter
RPM Meter With Proximity Sensor
Components are mounted on the panels are:
Variac 4A
DOL Starter
Emergency Stop Switch.
SALIENT FEATURES:
Front panel built with high class insulated Bakelite sheet with Sticker well printed circuits and symbols.
The trainer is housed in Modular Based Rack Type Aluminum Extruded Metal cabinet.

Instruction manual.
Patch Cords 4mm (Heavy Duty)
High Voltage Test Points are Provided With 4mm Safety Sockets
The trainer is housed in Metal cabinet.
Protection With Emergency Stop.
Short Circuit protection with the MCB.
Size of the trainer set 24"x24"
MOTOR SPECIFICATIONS:
AC Repulsion Motor 1HP, 230V, AC & 1440 RPM.
Category:
ELECTRICAL ENGINEERING
Product Name:
AL-E305C SINGLE PHASE AC REPULSION INDUCTION MOTOR (SPEED CONTROL)
Download PDF:
No Catalog Attached