Product Detail
Home
/ Product Details
Higher Education Instruments Manufacturers & Exporters
Ambey International!
Product Overview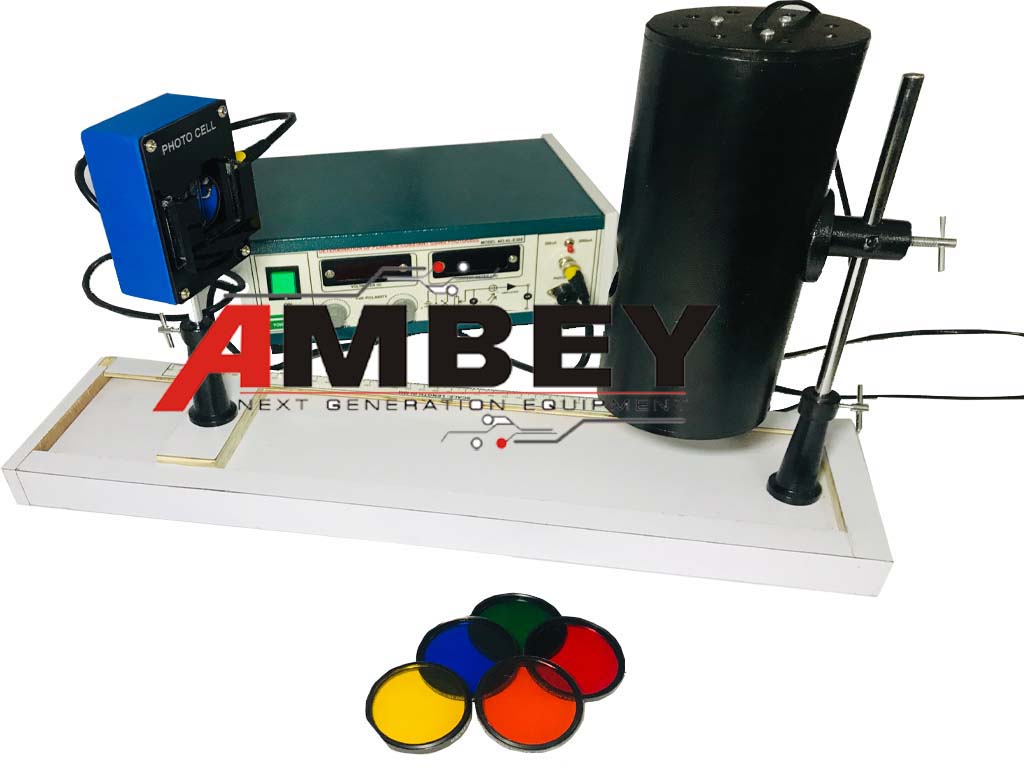 AL-E388C PHOTO-ELECTRIC EFFECT PHOTO CURRENT VS INTENSITY & WAVELENGTH OF LIGHT; MAX. ENERGY OF PHOTO-ELECTRONS VS FREQUENCY OF LIGHT
Description:

Study of Photo Electric Effect
Study of Photo Current Vs Intensity
Study of Photo Electrons Vs Frequency of Light
TECHNICAL SPECIFICATIONS:
Power Supplies:
DC Supply 0-5V DC, 150mA (With Negative and Positive Polarity)

Operated on Mains power 230V, 50Hz

+

10%
Digital Meters:
Ammeter 20uA DC.
Voltmeter 20V DC.
Components are mounted on the panels are:
Zero Setting through 10 Turn Potentiometer.
Voltage Control through Potentiometer.

Stand to hold Photo Cell enclosed in metal box.
Light Source is housed in suitable box with Intensity Control.
Color Filters: Red, Yellow, Green, Blue and Voilet.
Stand to hold color filter.
BNC to BNC lead for interconnection.
SALIENT FEATURES:
Front panel built with high class insulated Printed Circuit Board sheet with well printed circuits and symbols.

Instruction manual.
Connections are brought out through BNC Connector
The trainer is housed in ABS Plastic cabinet/Metal Box.
Size of the trainer set 12"x5"
PACKING LIST:
Wooden Optical Bench With Scale Stickered
Set of 5 Color Filter
Photo Cell Unit Housed in Plastic Box
Incandescent Lamp Housed in Aluminum Box
BNC to BNC Probe
Photo Electric Effect Trainer Unit
Lux Meter
Category:
ADVANCE PHYSICS
Product Name:
AL-E388C PHOTO-ELECTRIC EFFECT PHOTO CURRENT VS INTENSITY & WAVELENGTH OF LIGHT; MAX. ENERGY OF PHOTO-ELECTRONS VS FREQUENCY OF LIGHT
Download PDF:
No Catalog Attached