Product Detail
Home
/ Product Details
We freight to all over the world The best Electronics company,
AMBEY
INTERNATIONAL!
Product Overview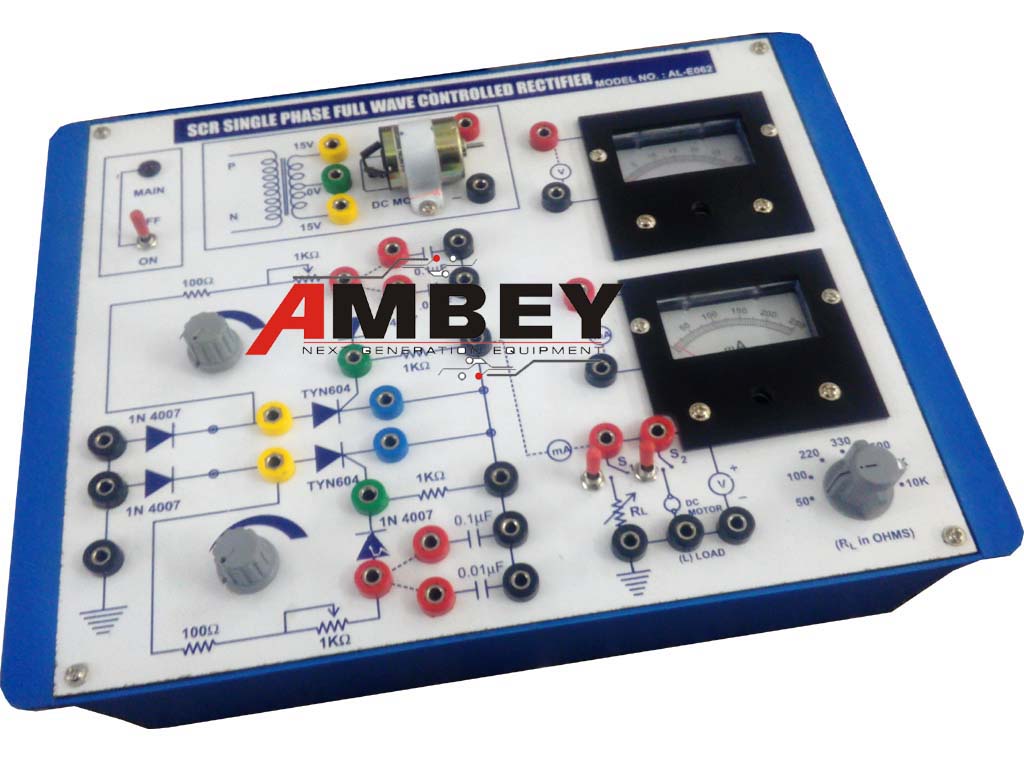 AL-E462A SCR SINGLE PHASE HALF CONTROLLED RECTIFIER TRAINER (RC FIRING)
Discription:

Experiment: SCR Single Phase Half Controlled Rectifier Using RC Firing Techniques With R and RL Load.
SPECIFICATIONS:
Analog Meters:
Voltmeter: 20V DC
Ammeter: 250mA DC
Power supplies:
Isolated Supply 0-15V AT 250mA.
Front panel built with high class insulated Printed Circuit Board sheet with well printed circuits and symbols.
Inductive Load (Using Motor With Fan 12V DC)
Resistive Load (Variable Resistor 5W Using Rotary Switch )
Fuse for Short Circuit protection
Components are mounted on the panels are:
SCR TYN604
AC Phase Control by RC Firing Circuit.
Salient Features:
Instruction manual.
Protection Cover.
Operated on Mains power 230V, 50Hz.
Patch Cords 2mm.
Supply provided through the 3 pin computer socket with appropriate fuse
The trainer is housed in Metal cabinet.
Size of the trainer set 12"x8"
Optional Accessories:
Category:
POWER ELECTRONICS & DRIVE LAB
product Name:
AL-E462A SCR SINGLE PHASE HALF CONTROLLED RECTIFIER TRAINER (RC FIRING)
Download PDF:
No Catalog Attached