Product Detail
Home
/ Product Details
Higher Education Instruments Manufacturers & Exporters
Ambey International!
Product Overview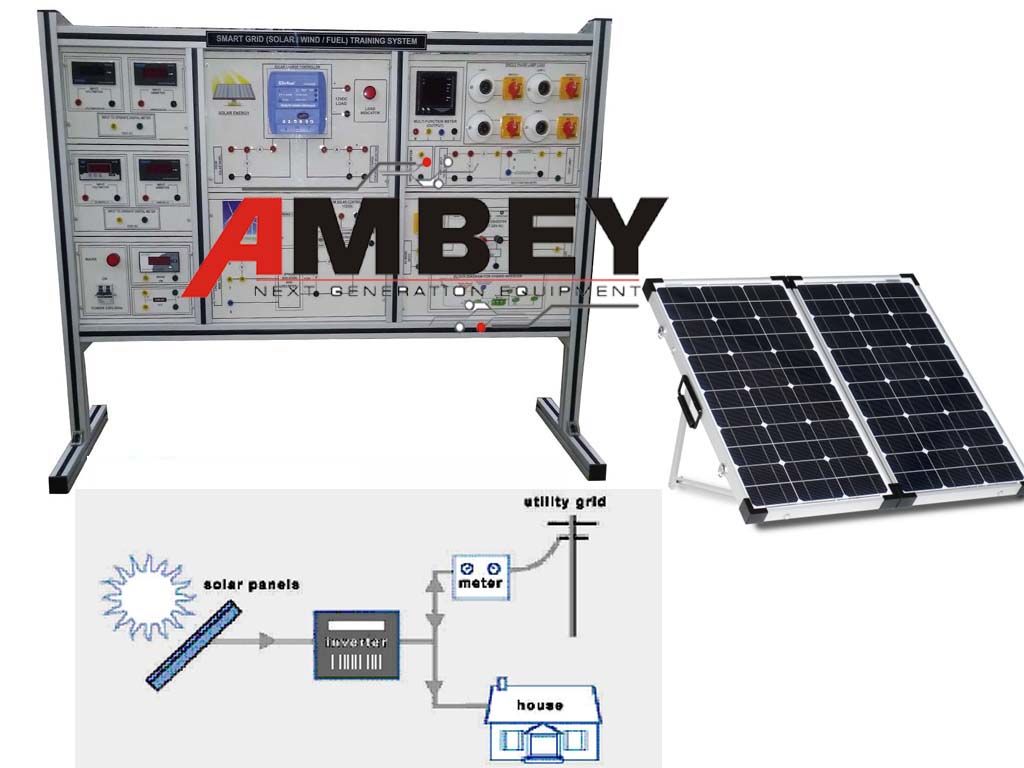 AL-E496B SOLAR CELL GRID TIED INVERTER SYSTEM
Description:

SCOPE OF LEARNING:
· Measurement and Analysis of Different parameters of Solar PV Module : open circuit and short circuit,parameter measurement with series and parallel PV modules , I-V characteristic and Power curve of PV module and PV array , efficiency and fill factor

Load Estimation and calculation
Study of Charge controller

Study of different parameter of inverter efficiency , PWM switching , charging of batteries , over load and over battery protection
On Grid Connections For Access Power Generations
TECHNICAL SPECIFICATIONS:
Power Supplies:
Operated on Mains power 230V, 50Hz

+

10%
Digital/Analog Meters:
Voltmeter (DC and AC Separately)
Ammeter (DC and AC Separately)
Energy Meter
Grid Inverter Inside the Control Panel.
Components are mounted on the panels are:
Solar Panels With Stand 500W

Power And Charge Controller Unit (Solar)
DC to AC Converter (For Grid Connections)
Single Phase Lamp Load Switched Control.
SALIENT FEATURES:
Front panel built with high class insulated Bakelite sheet with Sticker well printed circuits and symbols.
The trainer is housed in Modular Based Rack Type Aluminum Extruded Metal cabinet.
Instruction manual.
Patch Cords 4mm (Heavy Duty)
High Voltage Test Points are Provided With 4mm Safety Sockets
Short Circuit protection with the MCB.
Size of the trainer set 48"x24"
Optional Requirement:
SCOPE OF SUPPLY:
Solar Power Generation Trainer
Solar Cell Panels
Stand For Holding the Solar Panels
Inverter
Category:
GREEN & RENEWABLE ENERGY
Product Name:
AL-E496B SOLAR CELL GRID TIED INVERTER SYSTEM
Download PDF:
No Catalog Attached