Product Detail
Home
/ Product Details
Higher Education Instruments Manufacturers & Exporters
Ambey International!
Product Overview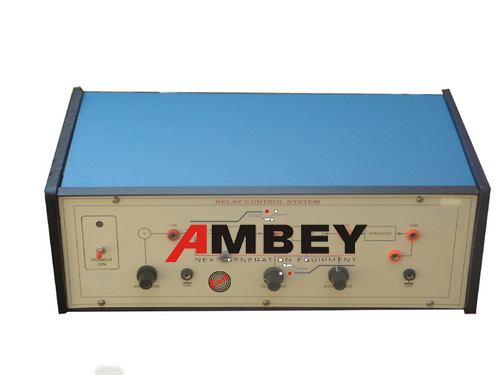 AL-E727 RELAY CONTROL SYSTEM TRAINER
Description:

SCOPE OF LEARNING:
Study of the relay characteristics and display of the same on CRO for different values of hysteresis and dead zones.
Study of the effect of hysteresis on system stability.
Phase plane analysis of relay control system for various values of Hysterisis and Dead Zones.

TECHNICAL SPECIFICATIONS:
Built in signal sources :
Sine wave : 0-1V (min.) variable amplitude.
Square wave : 0-1V (min.) variable amplitude.
Power Supply:
IC regulation in controller circuit power supplies
Operated on Mains power 230V, 50Hz

+

10%
Features:
Simulated electronic relay using high speed IC's.
Simulated 2nd order linear plant.
Facility for displaying x and x signals.
Dead zone variable from 0-600mV app.
Hysteresis variable from 0-500mV app.
SALIENT FEATURES:
Front panel built with high class insulated Printed Circuit on Metal Board sheet with well printed circuits and symbols.
Instruction manual.
Connections are brought out through 4mm Sockets.
Patch Cords 4mm.
The trainer is housed in Metal cabinet.
Size of the trainer set 18"x7"
OPTIONAL ACCESSORIES:
Product Name:
AL-E727 RELAY CONTROL SYSTEM TRAINER
Download PDF:
No Catalog Attached